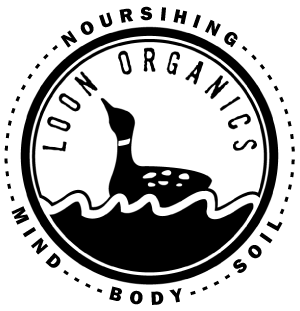 Loon is hiring one part-time position in 2022. Please see job outline below and contact us with any questions!
Timeline & Hours
2-3 days/week: Tuesday and Wednesday preferable and optional 3rd day. 8:00 a.m. – 5 p.m. with 1 hour unpaid lunch.
Responsibilities
Harvest, wash, and pack produce for CSA and other sales accounts
Production work in greenhouse and fields: seeding, transplanting, weeding
Hoop house crop care and management
Involvement with CSA member events and tours (1-2/year)
Help with general farm upkeep
Carry out food safety protocols
Qualifications
Loon Organics is looking for employees that are self-motivated, organized, good communicators, and have an eye for efficiency and detail to help grow some of the highest quality, organic vegetables around! No prior farming experience necessary. Farm work can often be physically demanding (it's a great workout!). Employees must be able to regularly lift 40+ pounds and be able to physically work outside in all types of weather. Loon is a production farm and we have high standards of efficiency and pace, and expect you to be able to step up, move quickly, think ahead, and keep up. Good communication and organization is important to us, and employees must be able to work in community with other farm employees and be self-motivated enough to work on their own at times too. This will be a great place for people that want to work hard, learn more about farming/growing food, and have fun in the process.
Our Farm and Team
Loon is a 40-acre certified organic farm located 60 minutes west of Minneapolis, MN, co-owned and operated by Laura Frerichs and Adam Cullip and their children Eli and Willie. Laura and Adam have been successfully farming since the early 2000's, with beginnings at the Gardens of Eagan Incubator Farm in 2005, purchasing farm land in 2008, and establishing a 100+ member CSA program and sales to local schools and foodshelves.
To apply:
To apply, please send relevant resume and 3 professional references to Laura & Adam at loonorganics@hotmail.com. Applications accepted on a rolling basis and positions will be ideally filled by late February. Serious candidates must be able to visit the farm to have an in-person working interview.
What is it like to work for Loon?
"Laura and Adam are an amazing farm team. For four seasons now I have continued to return and work alongside this inspirational and inventive duo. Laura is an exceptional manager with a wealth of knowledge from greenhouse to hoop house on producing the best quality organic vegetables this side of the Mississippi. Inventor and electric tractor extraordinaire Adam is constantly retooling farming practices that are more time efficient and back friendly. So glad to have had and continue to have the opportunity to learn from such passionate and caring farmers." -Katharine
"I have only positive things to say about my employment last summer at Loon Organics. Anyone interested in exploring the possibility of small vegetable farming would be remiss to not engage in some way with Loon. It was full of opportunities to learn on a comfortable and supportive, as well as productive and successful, well-run organic farm. Laura and Adam are incredibly knowledgeable and committed to sustainable agriculture, shown both in how they run their own farm and how much energy they spend on educating their staff. From our individual learning plans put together at the beginning of the season to monthly sessions on everything from financials to pest and soil management to post-harvest handling, education and employee support at Loon is well-integrated into work life. I was also very impressed by the electric tractors that Adam invests his time building. I continue to cheer these efforts on and see their possibility and necessity for the future of farming. Lastly, when I interviewed for the position, I asked how Laura and Adam would describe their working culture. They mentioned kindness as an important part. This was indeed my experience at Loon. Humor and kindness from them and from other staff, along with wonderful coffee breaks (the miracle of iced coffee on hot days) made my time there so very rich. I recommend Loon as a wonderful, supportive, reliable, and well-managed place for employment." –Bree